In August, Transwestern announced the creation of a Diversity, Equity & Inclusion (DEI) Steering Committee to establish more structure and accountability around the firm's efforts in these areas. We checked in with Tom Lawyer, TRS President, and Colleen Dolan, Executive Vice President of Human Resources, to learn what progress has been made on this important initiative.
Q: DEI is important to clients and partners of Transwestern. How do we show what we stand for as individuals and as a company?
TOM: The underlying values of DEI are woven into the fabric of Transwestern. Our daily actions with our clients and partners – whether they be internal or external – demonstrate integrity, fairness and mutual respect for all. Yet the events of this year made it abundantly clear that we must pay greater attention and outline clearer goals to do better as an organization and as an industry.
This is a very personal and sometimes difficult topic for companies to tackle, but we are dedicating the necessary time and resources to ensure we are an industry-leading example of equality – one unified team that fully embraces the value of a diverse workforce. Fortunately, candor and compassion abound across our organization, and we are confident the good people of Transwestern are growing together in this regard.
Q: What has been accomplished since the Steering Committee was announced?
COLLEEN: The Steering Committee, which comprises representatives from the three Transwestern companies, first worked together to develop the overall framework and four overarching goals for our elevated DEI initiative. These include Awareness, Talent, Training and Belonging. Goal leaders then invited individuals who expressed interest through the companywide survey. These members, listed below, have been meeting regularly to define objectives and determine strategies around their area of focus. The composition of these national committees was given careful consideration to ensure we fairly represented our Transwestern population.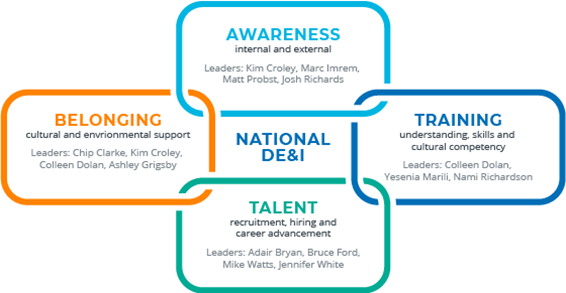 Awareness
Kim Croley
Matt Probst
Katie Sakach
Josh Richards
Micah Larmie
Tonya Link
Marc Imrem
Lauren Dean
Karla Rivera
Training
Yesenia Marili
Jim Montez
Sam Chanin
Diane McKinney
Nihar Shah
Crystal Jones
Nami Richardson
Colleen Dolan
Talent
Bruce Ford
Adair Bryan
Kristine Maggio
Mike Watts
Jennifer White
Rosie Keller
Mark Stratz
Tracy Peyton
Christina Tumbusch
Ashley Cassel
Caroline Krempa
Greg Boler
Brett Williams
Amy Wheaton
George Vogelei
Belonging
Colleen Dolan
Chip Clarke
Kim Croley
Sandy Morgan
Ashley Grigsby
Heather Nevin
Whitley Carter
Victor Venezuela
Greg Munson
Ashley Byrne
Q: What's next for this initiative, and how will you ensure all team members are playing a role?
Tom: Once complete, the comprehensive plans to advance Awareness, Talent, Training and Belonging, along with metrics to define success, will be rolled out to local markets, where local DEI teams will put our integrated plans into action. This is when we will once again ask team members to step up by leading initiatives locally that create more learning opportunities for all. Some efforts will be internally focused, while others may involve building relationships with community or education partners. So much of Transwestern's success is owed to good ideas planted locally that ultimately bloom across the entire organization. We envision DEI creating meaningful change in this way.
Colleen: Absolutely. While courses to educate both employees and managers must be part of our efforts, this is more than simply checking a box for training. We view DEI as a vital component of our commitment to Corporate Social Responsibility, and our desire is to fuel lasting motivation to improve in this regard. We've structured Transwestern's DEI initiative to be interactive and meaningful, allowing conversations, connections and innovative ideas to form naturally. In this way, we will foster greater understanding and accomplish more together. As we move forward, this could be supported by a company town hall, roundtable discussions, or other presentations that will keep team members informed of progress and guide our integrated efforts.
Tom: Our national committee members have been inspired by this video, and we invite you to watch it, as well. DEI is something that touches each of us, and we hope you share our commitment to living out Transwestern's Purpose: Empowering good people to do extraordinary things together. We look forward to sharing next steps soon.